* If you haven't already done so, be sure to sign up for our FREE Report & FREE Updates List at bottom of page.
Holocaust of the Bullets?

An "Almost-Daily" Daily Web Page Summary of the Dirty Lies, Glaring Omissions,

Half Truths & Globalist Bias of The NY Times





FREE SAMPLE

ANYT CLASSIC: RE-RUN FROM 2016

Subscribe to the Anti-NY Times and Stay on Top of World Events

An exhibition by the Topography of Terror Foundation in Berlin explores the mass executions after the Nazi invasion of the Soviet Union.

New York Times: Germany Confronts, in Unique Exhibit, Its 'Holocaust of the Bullets'

"We Germans know the stories and the scars much less well than we like to think," Foreign Minister Frank-Walter Steinmeier said at the opening.
Amazing, isn't it? Even in the midst of their own Jewish-engineered slow motion genocide by immigration and the lowest birth rates on Earth, the de-balled and de-moralized Germans are still whipping themselves bloody over the "Holocaust" ™ -- a "genocide" event which never happened. Hence, it is often referred to by those of us in-the-know as, "the Holohoax." Let's clean up some of these latest deceitful verses of the song that never ends about the event which never happened, as vomited out by Alison Smale -- New York Slimes bureau chief in Berlin.
Hazmat suits and goggles on -- into Sulzberger's cesspool we go:

The centuries-old pre-planned genocide of the Aryans is entering its final stage -- as suicidal Germans still whine and self-righteously self-flagellate over the Holohoax.
Smale: Berlin -- The exhibition, which opened late last month, confronts the mass murder of Jews and other minorities after the Nazis invaded the Soviet Union in June 1941. For all the attention paid to the past here, this display is the first in Germany to focus solely on those executions of more than two million people.
Rebuttal: It's interesting. The Soviets themselves -- who helped to originate the Holohoax by issuing a report on their "findings" at Auschwitz on the very day of Germany's unconditional surrender (so that the gagged Germans would not be able to respond to the ridiculous allegations) -- never mentioned these "two million" outside-of-concentration-camp executions.
Smale: Their bodies fell into pits, which were then covered and left as anonymous mass graves.
Rebuttal: Where are these "mass graves?" Why were they never dug up and shown to the world for propaganda purposes?
Smale: This "Holocaust of the Bullets," as it has come to be known, is deeply familiar to citizens of the former Soviet Union, particularly in Ukraine, Belarus, the Baltics and large parts of western Russia.
Rebuttal: "Holocaust of the Bullets," --- LOL! Who writes this corny crap? Steven Spielberg? There were indeed cases of German SS carrying out executions in the field. But what Smales won't tell you is that the "victims" were Red & Jewish partisan terrorists. These were the same types that committed genocide against anti-communist Russians during the civil war of just 20 years before. Because of their brutality against German soldiers and Russian civilians alike, they were not treated as standard Prisoners of War, but were often executed as war criminals instead.
NEW YORK TIMES (VE Day)
MAY 8, 1945 / Page 12, Column 5
* By releasing the damning report as soon as Germany unconditionally surrendered and handed over all of its media to the Allies, Stalin prevented the Germans from denying the lies that his henchmen had spun about Auschwitz.

OSWIECIM KILLINGS PLACED AT 4,000,000
**********************
Soviet Commission Reports Death Camp in Poland Was Founded by Himmler.
**********************
By C. L. Sulzberger
By Wireless to The New York Times
(full article --- here)
Smales: In Germany, however, the mass shootings are less known than the gas chambers and horrors of Auschwitz, Treblinka and other camps in Nazi-occupied Poland.
Rebuttal: The reason that "the Holocaust of the Bullets" is "less known than the gas chambers" is that this fictitious mass-shooting of two million Jews was only recently invented. You see, because the "6 million" ™ dead in the "gas chambers"™ fairy tale is becoming logistically unsustainable, the ever-reducing concentration camp death tolls have to be made up somewhere else in order to keep the number at "6 million" ™.
Smales: At the opening of the exhibit, Foreign Minister Frank-Walter Steinmeier used the occasion to link the past and the present. Since 2014, with the outbreak of hostilities in Ukraine, Europe has again had to face "the question of war and peace," Mr. Steinmeier said.
Rebuttal: Notice the subtle, non-spoken linkage of The Great One (past) to Putin (the present) -- a damn fine compliment to Putin in our book!
Smales: He said nine towns that he had visited in the past year in Ukraine and the region lost more than 180,000 inhabitants during the Nazi invasion.
Rebuttal: Actually, many people in the Ukraine region, and Russia proper itself were overjoyed when the Germans invaded! Germany's "winning of the hearts and minds" began to change when Soviet leaders Stalin and Kaganovich (cough, cough) ordered false-flag atrocity attacks against his own people.
Jews and communists may not have been happy to see the Germans arrive, but as the images above show, everyday Ukrainians and Russians greeted the Germans as heroic liberators in 1941. This began to change when Soviet NKVD death squads, dressed in German uniforms, began to commit atrocities and spread doctored photos.

Smales: In these "wounded landscapes" of "the forgotten Holocaust," Mr. Steinmeier said, "this exhibit removes the layers and brings to light, layer by layer, the details of a past which is not just an eastern one, but also ours. Without consciousness of those layers under the landscape, we Germans can never do justice -- .... "We Germans know the stories and the scars much less well than we like to think."
Rebuttal: "We Germans" did this. "We Germans" did that. Get off your damn knees, man! Sickening.
Smales: The special show — "Mass Shootings: The Holocaust From the Baltic to the Black Sea 1941-1944" — was mounted in cooperation with the foundation behind the nearby Memorial to the Murdered Jews of Europe.
Rebuttal: Dadgummit! Jews, Jews, Jews. Did no else die in World War II? Can we at least get a "shout-out" for the 1 million actual German civilians bombed and burned to death during the war? Or the many millions killed by starvation, disease and mass execution after the war?
Smales: At the entrance, a map shows 722 places where more than 500 people were killed by the Nazis' firing squads. "The map illustrates how bitter the history is, and how difficult it was to mount this exhibit," Mr. Nachama said.
Rebuttal: If you know where these 722 killing fields are, then where are the 2,000,000 skeletal remains? Hmmmm?
Smales: To judge by the solemn and attentive visitors viewing the exhibit on the first Sunday it was open, early this month, it hits home with foreigners and Germans alike.
Rebuttal: Having visited, just out of curiosity, various museum exhibits with "politically correct" themes (Modern Art, Evolution, Smithsonian etc.), your observant reporter here is always struck and humored by the odd way in which obedient libtards will suddenly turn all "solemn and attentive" whenever in the presence of puffed-up crap -- as if they are at a church funeral mass or something. Such frickin' weirdos! It's enough to make one want to gulp down a can of beans and a dozen or so Brussels Sprouts a few hours before visiting the exhibit -- just to add a bit of musical comic relief to the oh-so "solemn and attentive" proceedings.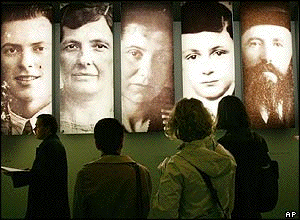 The uptight "solemn and attentive" German sheeple who worship this commie crap could use a good wake-up call.
Smales: Joshua Bagetti, 27, an electrician visiting from Brisbane, Australia, seemed dazed.
Rebuttal: "Seemed dazed" --- See what I mean?
Smales: He was, he said, stunned to see how rapidly the Nazis had invaded "and how far down south they went" — through the Caucasus to bump up practically against the Middle East.
Rebuttal: Well Josh, allow us to un-stun you by schooling you on a fact of history that you'll not hear about in some Jewish-inspired "exhibit." The Great One ordered the invasion of the Soviet Union to preempt Stalin's imminent invasion and enslavement of Europe. You do know who Stalin was, and what he did, right? Probably not.
Smales: Three 20-year-olds from around Cologne who were in Berlin for job training included the exhibit in their plans for their visit, said Christine Gronemann, one of the three. .... their lessons did make one thing plain, she said: "It was very clearly stated that Nazism, and everything to do with it, is not good."
Rebuttal: "Nazism" (a term invented by Jewish propagandists) is "not good." -- such a profound analysis from the no-doubt "solemn and attentive" 20-year old Christine.
Smales: Being taught about the Holocaust, and Germany's guilt, is a ritual of adolescence here. Students visit former concentration camps or memorials to smaller camps. If a school and its community can manage it, students go to Israel. Holocaust survivors, their numbers dwindling, are honored guests at German schools.
Rebuttal: That entire sentence just makes us want to cry. Pure child abuse.
1. American students forced to make butterflies for Holohoax "victims."// 2. Students made to adopt the persona of a Holohoax victim. // 3. Students throughout Germany, the United States, Canada, Australia, and Europe generally do not learn how to think critically, and in many cases, graduate deficient in reading, writing, arithmetic, history, geography etc. ----- but they sure as hell know all about the "Holocaust" TM!
Smales: Margot Friedlander, 94, is one such survivor. Born in Berlin, she was hidden by Germans from 1943 to 1944 and then deported to Theresienstadt, the camp north of Prague where she met her future husband, Adolf Friedlander.
Rebuttal: So, Margot met the man who later become her husband in a concentration camp. Interesting. Did she first bump into him in the line leading to "zee gas chambers?" -- "Hey baby. You come here often?"
Smales: A rabbi married them in spring 1945 in Theresienstadt, and the next year they left for New York, ....
Rebuttal: Say what?! --- Mighty kind of those big bad Germans to allow rabbis to marry young interned Jewish couples, even in the closing months of the war when all was lost and you'd think the Germans would be at their most vindictive. Doesn't that sort of contradict the official narrative of a genocidal campaign against the interned Jews? Just sayin'.
Smales: After he died in 1997, she started writing her memoir, eventually published in German.
Rebuttal: A "memoir," eh? Cha-ching! Cha-ching! Cha-ching! Ah, show us the shekels Margot, show us the shekels.
Smales: That led to a trip to Berlin, and a decision to stay. Visiting schools is perhaps the most important part of her new life, she said, "because they are the future."
Rebuttal: Oh what demonic glee this old yenta must derive from corrupting the grandchildren and great grandchildren of the kind German people who had, in the decades before World War I, treated the Jews so well -- only to later be repaid by the widespread Jewish / Marxist / Zionist treason which lost the war for Germany. (See "The Bad War" by yours truly -- here)
Smales: In this respect, did Hitler's efforts to mold German culture triumph? Not if you listen to Ms. Friedlander, who has faith in the young. "What was, was," she said. Now, "they are the ones who must shape society."
Translation: "We Jews have trained the youth of Germany to commit suicide, and like it!"
Money-grubbing Margot Friedlander and her fellow Tribesman are GENOCIDING Germany (and all of Whitedom) through the minds of the brainwashed youth. // Image 3: Suicidal German libtards protest against "racism" ™ and "sexism." ™
Boobus Americanus 1: I read in the New York Times today of a museum exhibit in Berlin about the "Holocaust by Bullets" -- the little known mass executions of 2 million Jews, committed mainly in the fields of the Soviet Union.
Boobus Americanus 2: Wow. So that would mean that 8 million Jews died, not the 6 as previously thought.

*
St. Sugar: No Boobus. No matter how many deathss are added over here or subtracted over there, the grand total must alwayss equal 6 million.

Editor: It's a Satanist thing.

**************
AUTO-MONTHLY DONOR / SUBSCRIBER OR 1-TIME OPTIONS

**************
By becoming an automatic monthly donor of $5 or more, you get all 23 of our pdf books and a permanent subscription to the almost-daily Anti-New York Times.

TWO SIMPLE STEPS
1. Click on image button below to quickly & securely sign up at SUBSCRIBESTAR. (Look for "Sign Up" in top right corner)
2. (Important!!!) After signing-up, E-mail us at: [email protected] with the word "Monthly" in the subject line.
*Allow a few hours to receive the pdf links.
For 1-Time Donation Options

(also with PDF rewards)
To send a check / MO or cash by mail:
Payable to:

PASCAL PUBLICATIONS, P.O. BOX 804, SADDLE BROOK, NJ 07663
FREE REPORT & FREE UPDATES

"How to Respond to an Anti-Conspiracy Theorist"


Never again be at a loss for words when some ignoramus tells you: "Aw that's just a Conspiracy Theory." .

No self respecting 'conspiracy theorist' should be without this essential BLOCKBUSTER REPORT!

SIGN UP now and receive a link to the FREE report plus periodic FREE summaries of Historical & Current Events.

Be sure to CHECK YOUR JUNK / SPAM BOX in case report doesn't go through.

/